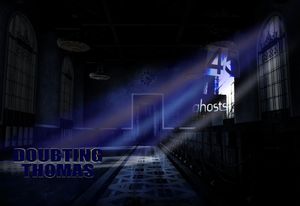 Bio
Doubting Thomas
"They Broke the Mold"
It was 1990 when Doubting Thomas was added to the music scene. At a time when rock bands were strictly a boy's club Doubting Thomas, proved that women musicians could carry instruments as well as a tune.
Gina Stewart & Brenda Gambill, not only broke down the clubs & coffeehouse doors they did it on their own terms. Playing over 200 shows a year. It was about the music, with soaring vocals laced together with melodies that never leave you, but it can only truly be described as the sound of Doubting Thomas.
Along with Bill Carroll, Matthew Davenport, Mark McColl, Irwin Bostian, Tim Hill, Michael Corrigan & Bryan Williams it was instant magic. The group has carved out an impressive name for themselves performing over 200 shows a year and named "Most Deserving of National Attention" by the readers of Charlotte, NC's Creative Loafing.
After their reunion show September of 2022, they decided they wanted to get back together and put together new shows. and Gina, Brenda, Bill, Matthew & Michael with the addition of Lenore Prisco on Keyboards and help from Tim Hill and special guest Mike Jones on guitars they are putting together a new album that they are really proud of called "Forever Changed" Due out fall of 2023.
Doubting Thomas has Released five albums; Blue Angel, the band's first album, was produced by John Keane (Widespead Panic) features special guests Peter Buck and Bill Berry of R.E.M.
Their second release, Two, features special guest Kristen Hall (Sugarland) and Emily Saliers (Indigo Girls) on tracks "Tiny Lights" and "How High" Their 13 song release, Who Died & Made You King, was also produced by Keane. Have a 12 song greatest hits from all five albums called History with a song never released featuring the late Bryan Williams on piano called "Spotlight". In September of 2022 a digital album 45 Ghosts which consist of recordings never released before and a remastered version of "Spotlight"
All these albums are now available Amazon, Apple Music, Google Play, YouTube, iHeartRadio, iTunes, Napster, Pandora, Tidal, TikTok & Spotify. Just type in The Doubting Thomas Band and you will find us.